It is our policy to run charges at the time of reservation unless other arrangements have been made. Cancellations made between now and 15 days prior to your reservation we offer full credit toward another visit or a 75% refund. Cancellations 0 to 14 days prior to your reservation, we are unable to offer refunds or credits unless we are able to rebook the dates you reserved. If we are able to rebook the dates, we offer full credit toward another date or a 75% refund.
CREDIT CARD: Your credit card statement will show charges from Great Getaways, however, each rental location is a separate and distinct entity. GreatGetaways.com is only the reservation provider.
In the event of failures out of our control, including internet failure, hot tub failure, power outages, adverse road conditions, or bad weather no refunds will be issued. We attempt to make sure all appliances and amenities are in working order prior to your arrival. If you find that anything has failed let us know immediately on arrival and we will do everything in our power to correct the issue.  
Optional Travel Insurance
During winter months is is a good idea to have traction tires, chains, or 4-wheel drive vehicles. The State of Washington plows the main road, and we plow our driveways. Chains are often required in the National Park. They can be rented locally. Be sure to reserve ahead of time. Summit Haus.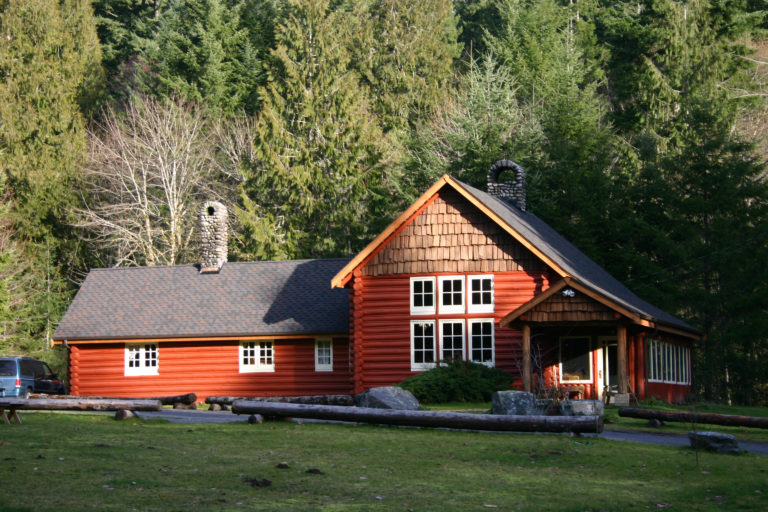 All Guest must be reported:
The base nightly/weekly rate is for two people (except at Frenchie's Suite where the base rate is for 4, and Copper Creek Lodge and Tahoma Canyon Home where the base rate is for 6).  Each additional person will be charged $25/day for use of the property, including day visitors. Unreported guests will be charged double if we are not notified in advance. 
If unreported guests are present or if policies are not being respected we reserve the right to evict those guests not following the policies without notice or refund
Pets are allowed at only a few cabins:
PETS are allowed only at specific properties and must be reported in advance. A fee of $25 per pet, per day, will be charged. Unreported pets will be charged $50 per day, per pet. Guests agree to be in full control of their dogs at all times. All pets must be pest free, well behaved, and housebroken. Your pets are not allowed on any furniture, or beds. Any damage done or additional cleaning needed will  be charged to the guest at the rate of $40 per hour. 
Pets are not allowed in many of our cabins. If you are bringing a pet, please make sure you are in a pet-friendly cabin or have prior approval.  
.Washington State Leash Law applies whenever the pet is outside on the property. 
Reservations: 360-569-2799
Copper Creek Inn, Cabins & Lodge
35707 SR 706 E
P.O. Box 159
Ashford, WA 98304
_____________________
Two Herons Cottage
Shelton,WA 98584
Exact address provided at time of reservation.
______________________
Copper Creek Restaurant
360-569-2326