Vacation Rentals at Mt Rainier
Three Offsite Vacation Rentals at Mt Rainier in Ashford Washington
The two homes share 11 acres. One a contemporary custom built home that accommodates up to 16. . . the other a historic log cabin that accommodates 4. They are both vacation rentals at Mt Rainier that you'll not forget! There is plenty of privacy from one to the other. The property is stunning. Watch for frequent visits from wildlife. Elk, deer, coyote, waterfowl, eagle, Canadian geese, blue herons,  and more! 
The third, a cabin to accommodate 3 is located in Paradise Estates, is a few miles away on Big Creek. 
All are in beautiful settings, close to the Nisqually entrance to Mt Rainier National Park.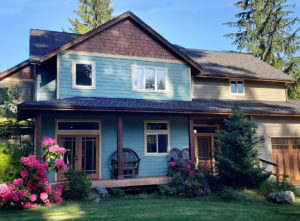 Beautiful custom built home is 3900 square feet with 5 bedrooms. Sleeps up to 16.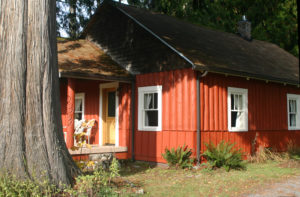 Historic vertical log cabin with two bedrooms, full kitchen and space around it for privacy. Pet friendly. Sleeps 4
More Cabins at Mt Rainier:
Located in Paradise Estates, one mile away. . .
One bedroom (queen and twin) bedroom and a twin sleeping area of the kitchen. Big Creek in your backyard. Sleeps 4.