ArtStudio
Cabin at
Mt Rainier
Sleeps 4: Queen bed, Queen Murphy bed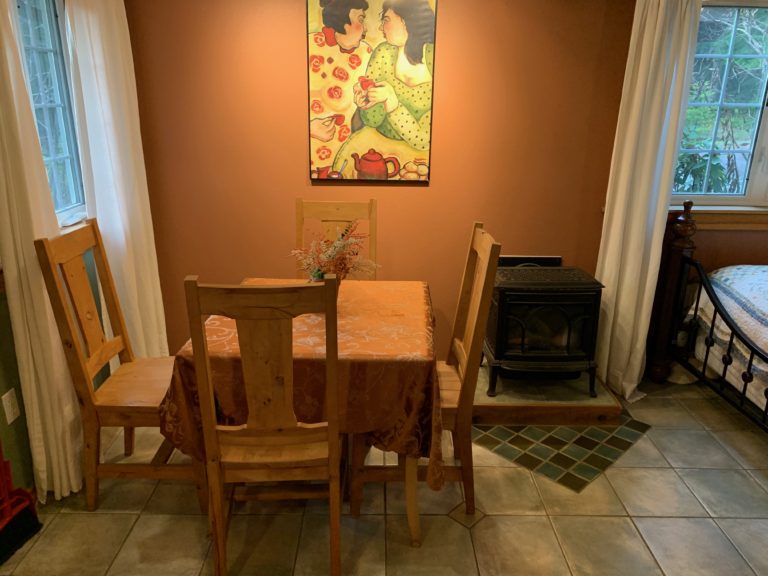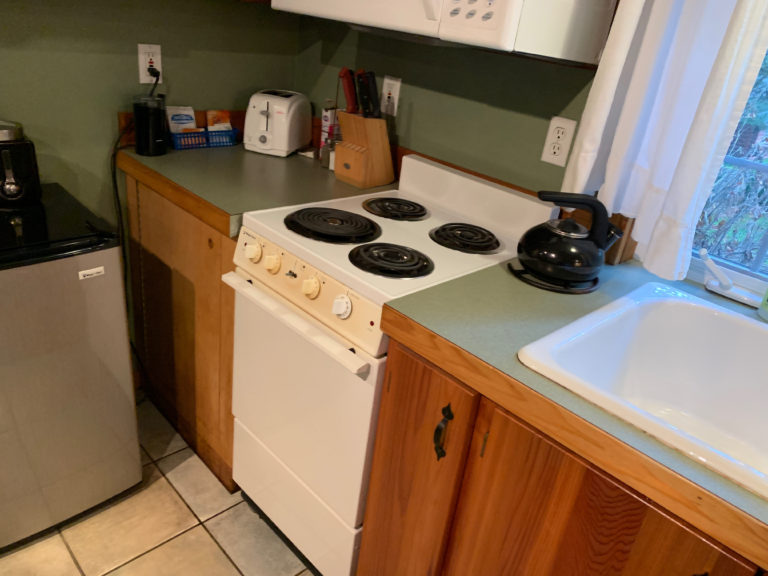 Sleeps 2 – 4
Queen bed
Queen Murphy bed in one room cabin (curtain divides the sleeping areas)
Compact kitchen
Apartment size electric range
Small refrigerator
Coffee maker, grinder and fresh whole bean French roast coffee
Microwave
Dishes, silverware, cooking utensils, pots and pans
Living room area (open floor plan to kitchen area)
Sofa
Gas fireplace
Flat Screen TV with a handful of movies  (No television reception)
Bathroom with shower
Log Gazebo with picnic table
Private hot tub right on the creek in log gazebo
A short trail to your private area on the creek
To Do:
Lawn for games
Snow play, lounging
Visit Mt Rainier
WiFi: WiFi in the area is not stable. It is usually good for checking email but not great for streaming movies or video calls. 
Verizon cell service
Electric Vehicle charge  available across the drive from the cabin – Nema 14-50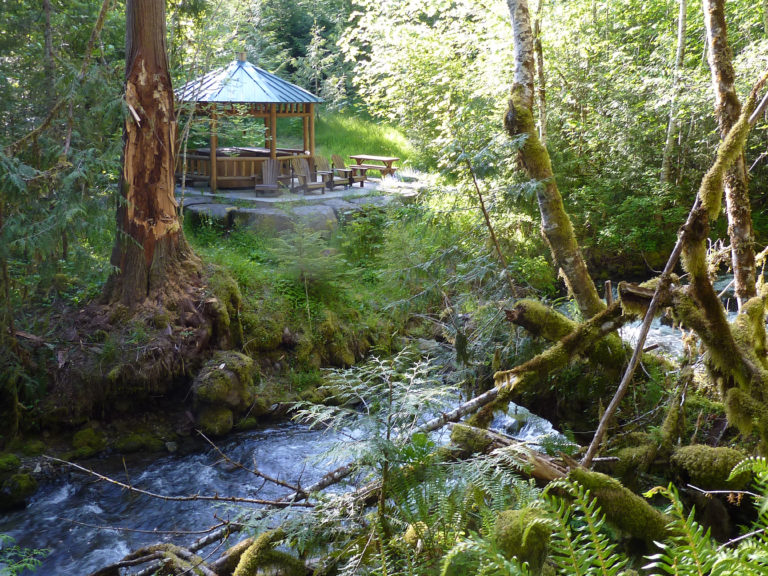 If Art Studio Cabin at Mt Rainier doesn't inspire the setting of the hot tub will. Soak while you take in the beauty around you. 
Art Studio Cabin at Mt Rainier in Washington State is sure to inspire you!
Art Studio Cabin at Mt Rainier is a charming one room cedar cabin, once used by painter Catharine Gallagher as her studio. It still is full of creative energy and displays much of her work. Try your hand at the easel, sit by the creek to sketch, or bring some of your own projects to work on. Take in the fresh mountain air, the lulling sounds of Copper Creek and the spirit of this creative Art Studio Cabin at Mt Rainier just might inspire you! 
In the  log picnic gazebo is next to the cabin, you'll find a picnic table and gas grill. The big lawn to the south of the cabin is great for curling up with a book, soaking in some sunshine, playing games and taking in the scenery. In the evenings and early mornings, watch for deer in the yard. Art Studio Cabin at Mt Rainier is where guests enjoy one of the best hot tubs on the property. It is down a short trail and in a log gazebo right on the creek.
Art Studio Cabin at Mt Rainier has a nice kitchen, but if you are not "inspired" to cook, Copper Creek Restaurant is walking distance from the cabin.